Paul Van Hoeydonck, Fallen Astronaut (2020)
Documentary film by Frank Herrebout - TRAILER
THE FALLEN ASTRONAUT - Documentary film about Paul Van Hoeydonck by Frank Herrebout


The Fallen Astronaut depicts the compelling story of one of the most extraordinary achievements of the Space Age, a sculpture on the moon dedicated to all the astronauts and cosmonauts who died during the Race to the moon.
For the first time after almost fifty years the artist has consented to participate in a documentary about the fascinating history of one of the most intriguing achievements of the space programme: placing the first and only work of art on the moon, by the Apolllo 15 mission in 1971.
Since 1961, Paul Van Hoeydonck explored the possibilities of a synergy between man and technology. His interest in Space was - and still is - expressed in an engaging body of work in which he profiles himself as an 'archeologist of the future'. This long overdue documentary renders homage to the artist's genius and his undeniable contribution to 20th Century art history.
This documentary was co-produced by Adrian Mibus and An Jo Fermon
TO WATCH THE FULL FILM:
https://itunes.apple.com/gb/movie/the-fallen-astronaut/id1506184013?mt=6&ign-mpt=uo%3D4
https://vimeo.com/ondemand/thefallenastronaut?ref=tw-share
PAUL VAN HOEYDONCK - Fallen Astronaut - Man on the Moon - Man in Space - Apollo XV Hadley Base © 2019 presentation: Danny Van Hoecke (10 minutes)
26.06.2019 - 18.08.2019
PAUL VAN HOEYDONCK - Expo Fallen Astronaut
Abbaye de Villers (Villers-la-Ville) Rue de l'Abbaye, 55, 1495 Villers-La-Ville, Belgium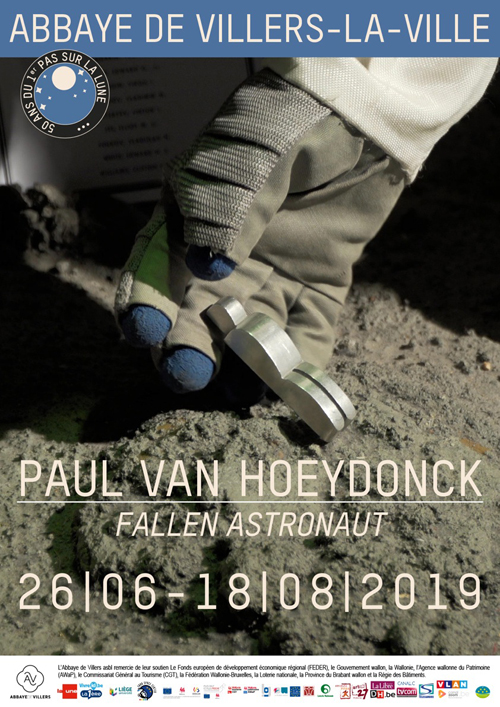 Sculpture on the Moon: Meet Artist Paul van Hoeydonck
Thursday, December 12, 2013 - Museum in Washington, DC

© Donald Woodrow

© Donald Woodrow

© Donald Woodrow

© Donald Woodrow

© Donald Woodrow
---
The Sculpture on the Moon
Scandals and conflicts obscured one of the most extraordinary achievements of the Space Age.
By Corey S. Powell and Laurie Gwen Shapiro
One crisp March morning in 1969, artist Paul van Hoeydonck was visiting his Manhattan gallery when he stumbled into the middle of a startling conversation. Louise Tolliver Deutschman, the gallery's director, was making an energetic pitch to Dick Waddell, the owner. "Why don't we put a sculpture of Paul's on the moon," she insisted. Before Waddell could reply, van Hoeydonck inserted himself into the exchange: "Are you completely nuts? How would we even do it?"
Deutschman stood her ground. "I don't know," she replied, "but I'll figure out a way."
She did.